BOTOX® Cosmetic is the most popular and widely used brand name of botulinum toxin type A, an injectable treatment with multiple medical benefits. In addition to usage in neurology, the liquid extract is used in cosmetic nonsurgical wrinkle reduction treatments by injection. It relaxes the muscles that cause the facial expressions that lead to certain wrinkles over time. Both women and men visit board-certified plastic surgeon Dr. Kesh Nawada for BOTOX treatments in Winter Haven from Tampa, Orlando, and throughout Central Florida to look relaxed and more youthful. While improvements are temporary, typically lasting for 3-6 months, BOTOX treatments can be combined with dermal filler treatments for even more impressive results. Dr. Nawada uses BOTOX treatments to smooth out lines and wrinkles caused by the contractions of facial muscles, called "dynamic wrinkles," which include:
Frown lines between the eyebrows
Horizontal forehead furrows
Crow's feet around the outer corners of the eyes
Other often forgotten or unexpected ways that Dr. Nawada, or other qualified physicians, may use Botox, both FDA approved use, or off-label:
Reducing excessively sweaty armpits, hands or feet. This condition is medically known as hyperhydrosis, a condition that affects millions and can be embarrassing. It can be one of the most life-changing treatments.
Alleviate Intense Migrane Headaches.
Eliminate a gummy smile. If you have more gum than tooth when you smile. This off-label use can open up your smile and show more of your teeth.
Stop a twitching eye. Before Botox was known for its ability to smooth out wrinkles, it was originally used to correct muscle twitching around the eyes.
Tightness in the Jaw from TMJ. Constant grinding of the teeth and clenching your jaw can swell the muscles that live in the edge of the jaw and in the scalp, which can make these muscles become overgrown and makes the face appear off balance. Injecting these muscles with Botox can soften the angles of the face, as well as release any tension too.

Reviews
"Dr. Nawada is hands down the BEST Plastic Surgeon in Central Florida. Prior to my surgery I was well informed and given 100% confidence. In result, my instincts were spot on selecting Dr. Nawada to perform my elaborate procedure. Surgery went smooth and follow up was very caring & professional. He is an artist that helped me gain my confidence back. Thank you Dr.Nawada & Amazing Nurses!!"
- J. /
Healthgrades /
Apr 09, 2016
"Dr. Nawada and his staff are amazing! So sweet too!"
- M.S. /
Facebook /
Apr 04, 2019
"The doctor and his staff are excellent in every way. Professional and caring and honest! I had the most amazing experience in this facility and highly recommend this doctor. He is like no other! ??"
- S.B. /
Google /
Jan 13, 2019
"Dr. Nawada is AWESOME!! Along with his staff. I had a BOTCHED breast reduction from a surgeon at Lakeland's Watson Clinic in 2003. I was promised the moon and back and was left mutilated. I wasn't the only one who went too this "so called plastic surgeon " and received botched results. My breasts were so botched I would cry looking at them in the mirror. The scars were horrendous and hurt all the time. I couldn't wear a bra, not that I needed one anymore bc all I was left with going from a 38HHH too barely A cups which were scars. I heard so many great things about Dr. Nawada so I went for a consultation 5 years later. He is very upfront and tells you like it is which I truly liked. Some take that as he doesn't have a good bedside manner, but it's they want things the way they want it not reasonable for the best results. Not only did he fix the scars which when he did it left my breast concave, but he put in appropriate size, shape and form of saline implants proportionate too my body. Along with the breast reconstruction he tandemly did an apron tummy tuck and gave me the cutest belly button ever. (I had weighed almost 300lbs in my teen years and lost over 100 leaving the skin too skin touching which was removed) All I can say is everything was perfect then and still too this day 10 years later I'm still loving the way I look. My daughter who is 21 went through this with me mind you she was only 12 at the time and now she has one breast 2 2 1/2 sizes smaller. Dr. Nawada examined her when she was 18 and told her too wait until she was 21 and come back and he will augment her breast too make them fuller and even. I appreciate his honesty and telling her too wait because most would have done it back when she was 18 and as he told her her breast will be about done growing around 21-22 keeping the need of an additional surgery if she were too have done at 18. She's preparing soon too have her surgery and I feel SUPER COMFORTABLE AND SAFE putting my baby's life and vanity in Dr. Nawada's and his staffs hands. It doesn't hurt either that his head Nurse/office director was a high school classmate of mine. If you want the BEST NAWADA AND ASSOCIATES is the place too go??!!"
- A.S. /
Google /
Nov 25, 2018
"It has been 17 years, but was an exceptional experience. I wish Dr. Nawada was here in the Atlanta area...."
- V.A. /
Facebook /
Jun 20, 2018
Previous
Next
BOTOX is administered during an in-office appointment that typically takes about 30 minutes. The depth, length, quantity and location of wrinkles varies for each patient. Therefore, the injection treatment, including the dosage and injection location, is tailored during the procedure. Patients will be marked for the specific areas on the face that are going to be treated. The injection is given through a syringe to localized areas on the face. Patients will feel a small prick as the needle inserts through the skin, but any pain or discomfort is controlled with a cold compress.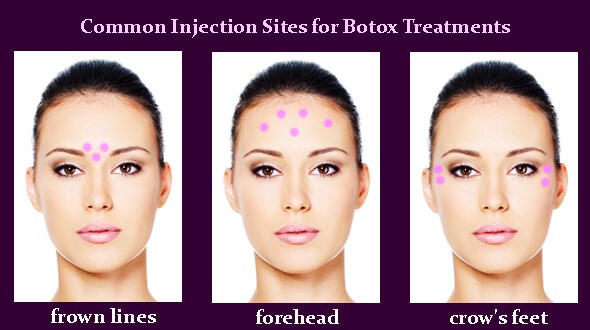 What to Expect with BOTOX®
Immediately following a series of BOTOX injections, there will be some mild swelling and redness at the injection site. This will subside a few hours after the procedure. Patients can resume their normal activities immediately, but exercise should be avoided for a few hours. It is also recommended that patients keep their heads elevated for the first 8-10 hours. Results following BOTOX will become apparent within 4-7 days. About a week after treatment, patients will notice an inability to fully move portions of their forehead. With limited movement, wrinkles will cease to appear. The result is skin that appears smooth and soft.
BOTOX treatment costs will vary depending on how much of the medication is used (the number of syringes). Most practices charge $350 for one full syringe of BOTOX. A treatment session typically takes 1-3 syringes. Therefore, the cost can range between $350-$700 per session.
Plan Your Procedure
Average Cost

From

$100

Recovery Time

None

Average Procedure Time

30 Minutes

Post-op Follow-up

4-6 Months

Procedure Recovery Location

Outpatient
Contact Us
BOTOX is approved by the FDA and has a long, safe history. It is administered in over 75 countries and consistently ranks as the most popular cosmetic procedure in America. However, even with its popularity, BOTOX is a drug and should only be administered by a qualified medical practitioner. Individuals who receive injections by someone inexperienced run the added risk of bruising, over medicating and ultimately, obtaining undesirable result.

In 2009, BOTOX gained competition when Dysport (abobotulinumtoxinA) was developed, approved by the FDA, and made available to the general public. Both drugs are used to relax the facial muscles that cause wrinkles and frown lines. Some practices lean towards BOTOX to address forehead lines, while considering Dysport for crow's feet. There has been much debate as to which drug is superior. Both have their advantages. Some distinct differences can be discussed during the consultation.
Injectable fillers such as Restylane, Juvederm and Perlane help decrease wrinkles by adding volume to certain facial structures, which creates the appearance of smooth skin. BOTOX, which temporarily freezes the underlying muscle, offers a similar result with a different approach. A skilled practitioner will be able to determine if a filler material or a product like BOTOX would garner the best results.
Individuals who wish to soften and decrease facial lines and wrinkles may be candidates for BOTOX. The most common age to receive BOTOX injections is between 30-55. However, it is also common for patients younger and older to receive injections.
BOTOX is not a permanent fix. Results will last for several months - sometimes longer - but they will not last forever. Qualified injectors will tell you there is good news and bad news when it comes to BOTOX. The good news is, if you are not happy with your results, the results will only last a few months. Likewise, the bad news is, if you love your results (which most people do), the results will only last a few months. Regardless, many patients recognize even the temporary results are worth feeling and looking younger.
Related Procedures